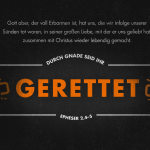 2:4 rich in mercy God's abundant mercy, which characterizes Him throughout the Bible (Exod 34:6–7), is epitomized by His willingness not to punish "children of wrath" but instead to save believers through His grace (Eph 2:5).
2:5 dead in trespasses See note on v. 1.
alive together with Christ Through union with Christ, believers receive new life that reverses the effects of death (see note on v. 1; compare Rom 6:4–11; John 3:16–17). Those who believe in Christ participate in His death and resurrection. Consequently, believers share in Christ's resurrected life—life that is indestructible, in union with God, and led by the Spirit.
by grace The basis of salvation is grace—God's undeserved generosity toward people. God demonstrated His grace through Christ's sacrificial death and resurrection.
you are saved In this context, the Greek word used here, sōzō, refers to God delivering people from death and giving them life.
2:6 raised us together Because believers are identified with Christ's resurrection, they also share in life that is no longer subject to death.
seated us together Believers share Christ's position of authority at the right hand of God by virtue of their union with Christ. See Eph 1:20 and note.
heavenly places See note on 1:20.
in Christ Jesus This repetition emphasizes the centrality of Christ (see 1:3 and note).
2:7 in the coming ages See 1:21 and note.
in Christ Jesus See note on 1:3.
2:8 by grace you are saved See note on v. 5.
Barry, J. D., Mangum, D., Brown, D. R., Heiser, M. S., Custis, M., Ritzema, E., … Bomar, D. (2012, 2016). Faithlife Study Bible (Eph 2,4–8). Bellingham, WA: Lexham Press.
4. Aber Gott, der da reich ist an Barmherzigkeit, durch seine große Liebe, damit er uns geliebt hat,
5. da wir tot waren in den Sünden, hat er uns samt Christo lebendig gemacht (denn aus Gnade seid ihr selig geworden )
6. und hat uns samt ihm auferweckt und samt ihm in das himmlische Wesen gesetzt in Christo Jesu,
7. auf daß er erzeigte in den zukünftigen Zeiten den überschwenglichen Reichtum seiner Gnade durch seine Güte gegen uns in Christo Jesu.
8. Denn aus Gnade seid ihr selig geworden durch den Glauben, und das nicht aus euch: Gottes Gabe ist es,
9. nicht aus den Werken, auf daß sich nicht jemand rühme.
Luther, M. (2001). Die Heilige Schrift nach der deutschen Übersetzung Martin Luthers (Eph 2,4–9). Oak Harbor, WA: Logos Research Systems, Inc.