10:19 In many words Restraint in speech is advocated throughout Proverbs. While a fool's speech leads to ruin (18:6–7), keeping quiet can help avoid trouble (21:23). A fool's silence may even make the fool seem wise (17:28).
10:22 The blessing of Yahweh makes one rich This does not mean that wealth always accompanies wise or righteous people, or that possessing wealth always indicates wisdom and righteousness. Elsewhere, Proverbs warns against seeking wealth (23:4; 28:20). Here, riches represent a blessing from God because God serves as the source of all things—both good and bad (1 Sam 2:7; Job 2:10). See note on Prov 3:2.
Barry, J. D., Mangum, D., Brown, D. R., Heiser, M. S., Custis, M., Ritzema, E., … Bomar, D. (2012, 2016). Faithlife Study Bible (Spr 10,19–22). Bellingham, WA: Lexham Press.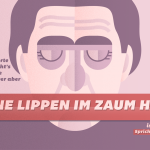 1. Wenn ich mit Menschen-und mit Engelzungen redete, und hätte der Liebe nicht, so wäre ich ein tönend Erz oder eine klingende Schelle.
2. Und wenn ich weissagen könnte und wüßte alle Geheimnisse und alle Erkenntnis und hätte allen Glauben, also daß ich Berge versetzte, und hätte der Liebe nicht, so wäre ich nichts.
Luther, M. (2001). Die Heilige Schrift nach der deutschen Übersetzung Martin Luthers (1Kor 13,1–2). Oak Harbor, WA: Logos Research Systems, Inc.